Last week a team of four went to the annual UK Games Expo in Birmingham to represent Mottokrosh Machinations, and present the barely week old Hypertellurians hardcover to the world. The crew consisted of cover artist Anna, playtesters Dave and Kara, and myself. Over 3 days we told intrigued or downright enthusiastic attendees about Hypertellurians, and the 2 adventures Mottokrosh Machinations has published so far. The reaction has been beyond my wildest dreams.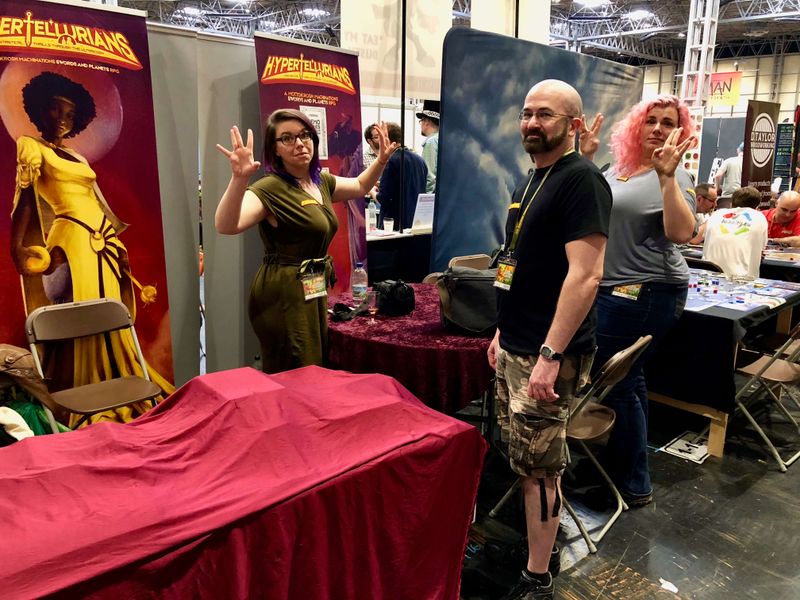 As a first time exhibitor it was a bit of a gamble as to how many books we should bring, and how many we might expect to sell. I'd enquired about numbers from other publishers beforehand, and did some off-the-back-of-an-envelope calculations, but ultimately it was still only a guess. My worry was that we'd either brought way too many or too few books. But as it happened, we hit the sweet spot: out of roughly 160 books total, we brought back only 7!
Bestsellers
But let's rewind a bit. Anna, Kara, and I arrived to the venue from Berlin, where we met Dave, who'd already arrived a little earlier by train from Norwich. Putting up the stand didn't take terribly long, so we grabbed a taxi to our hotel, which was 10 minutes north of the NEC, the expo's giant venue. It was a lovely, quaint hotel, with decent food and drink (but a terrible disco on Friday nights).
The next day, as we arrived back at our stall to open up, we learned that Hypertellurians had become a copper bestseller at DriveThruRPG, where it had gone on sale barely a week beforehand! Seizing the marketing opportunity, Anna and Kara immediately drew and lettered a relevant sign to put on the stall! (At the time of this writing, Brutal Imperilment in the Bag of Infinite Holding is also a copper bestseller, while Hypertellurians is already well on its way to silver; of course none of those numbers count the expo sales.)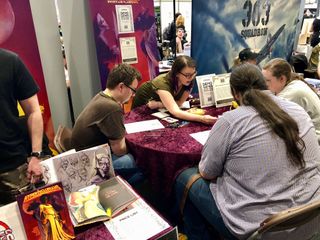 Social media wins
Hypertellurians gained a fair bit of traction on Twitter during the expo, as many people had really nice things to say about it, which felt amazing for all involved. You all have our deepest thanks for that!
The demo games we ran about the expo were a hit and a hoot too. Using 6 quirky pregenerated characters, a party could go on a 45 minute thrill ride through one or two of the "bags" from Brutal Imperilment in the Bag of Infinite Holding.
We advertised that the demo games would run every hour on the day, and for the most part they did—we only had the occasional hour without a demo, usually around lunchtime. Our avid testers included gaming veterans as well as RPG virgins, young and old, and we all had a blast.
Meetings and machinations
It wasn't all sales and demos of course—we took regular turns to wander the halls and quickly redistribute any money we might have made, to other creators. There were so many amazing games on display, and such a huge variety too; it gets harder every year to keep up with all the awesome. What a problem to have!
During trade hall hours, I got to chat to ENworld's fearless leader Morrus, the giants from Rowan, Rook and Decard, Chris, Grant, and Mary (for scale), peerless master of fantasy horror, Best Left Buried's Zachary Cox, John Carter of Mars author Benn Graybeaton, Nordsaga and Mud & Blood's Matt Kay, Lamentations of the Flame Princess's James Raggi (briefly) and former community manager Julia, and many more extremely talented people of all walks of life. I also got to meet up with some old friends, and Hypertellurians fans like Cintain, which was excellent.
In the evenings I bumped into a few more notables, such as DCC judges and authors Bruce Cunnington and Brendan LaSalle, and made some new friends at the unofficial official Hearty Dice Friends bar meetup. There were many more people I wanted to talk to (Paizo's Erik Mona walked past our stall twice, but I never had the chance to grab him) but didn't manage to, so that'll have to wait for another con!
Gallery
Here are some random impressions from the expo, or the journey there and back.
Yep, that's me and Grant Howitt buddying up, and with Matt Kay in front of the viking village, on the way to his viking themed game, Nordsaga. And Wotan Games had a bus! How do you compete with that? Hm, raypunk rocket next time maybe.
Nordsaga
This was the one game I actually got to play in the whole con, although I did manage to game a whole bunch, thanks to the Hypertellurians demos. Matt has been working on this alternative history setting for a little while now, and recently ported it over to Free League's Forbidden Lands system, with a few tweaks here and there.
I was very impressed with the game's many and varied races, something that can easily be missing from viking themed games. Our group of players put together a motley bunch of characters that felt like a real fantasy party. The magic system was excellent: powerful and dangerous, using runes, blood, and galdrs. In another word, fun. The adventure itself really sold the settings and acted as a good taster for the kinds of challenges to expect in a game of Nordsaga. Can't wait for the finished game!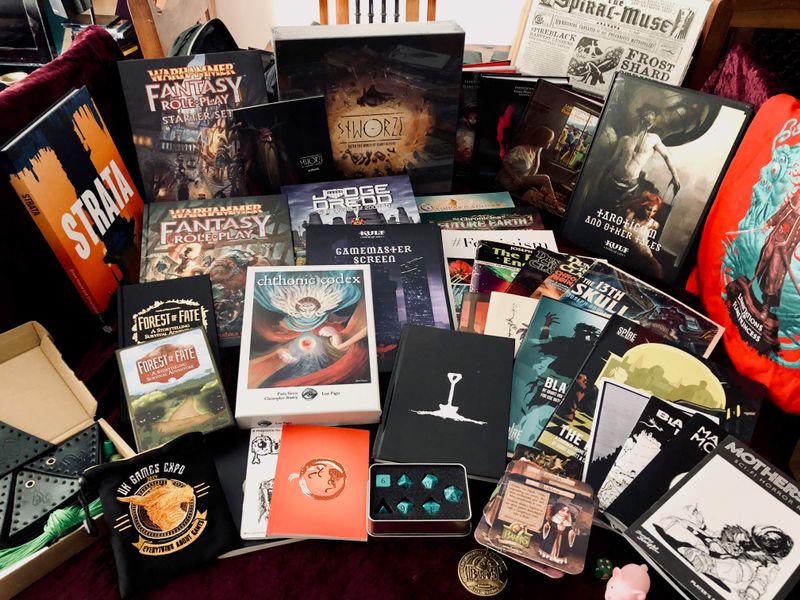 You might be thinking that there are some items missing from that haul that were on sale at the expo and I should have totally picked up. And you'd be right, except that in those cases I probably owned the books already, like the mighty Troika! Numinous Edition, Black Hack 2E, or various Free League offerings.
What's next?
Soon we'll be announcing the winner of our convention character concept contest (quadruple alliteration!); keep an eye on my Twitter for that.
There are a few more things brewing here at Mottokrosh Machinations HQ too: an early playtest for a new adventure has highlighted a couple of problems and a lot of fun, so some revisions need to be made there, and I'm about to commission art for a new sourcebook. More on that later.
There is a potential piece of very exciting news too, but it's too early to get into yet!
Join us on Discord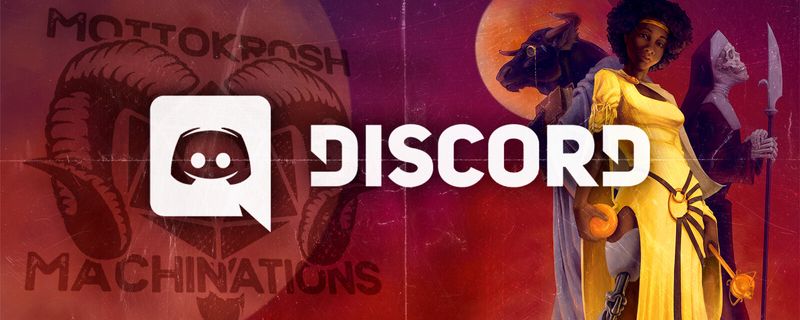 Yep, we created a Discord server for chatting about all things Mottokrosh Machinations. Newsletters are a little quaint, Twitter works better for bite-sized bits, and I do most of my RPG socializing on Discord already anyway. Click the image above for an invite to the server.
One last picture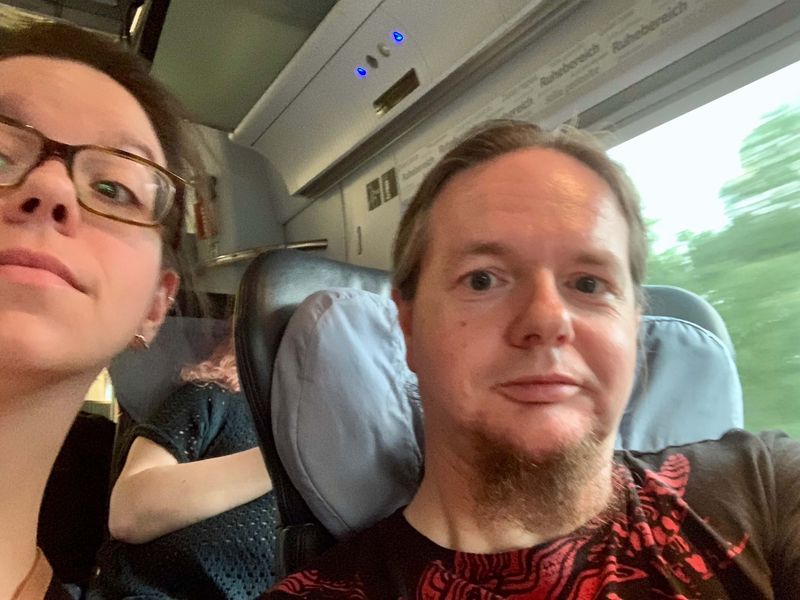 Our return journey from UK Games Expo was not without its hurdles (delays, luggage woes, cancellations, giant queues of angry people), but in the end we snagged seats in a first class train compartment for the last leg of the trip, which made us happy.
Until next time!