It's been a big two weeks for Mottokrosh Machinations. We started with the launch of the new Hypertellurians (M)Anvil Edition (want to know why it's called that—check out the Q&A videos later) at Virtually Expo, this year's online replacement for the UK Games Expo, where we had been regulars for the least few years.
We'd assembled an awesome crew of people once again, tarted up our virtual stall up to eleven, hung out in virtual chat and on Discord all weekend, and organized a whole bunch of events. Between Anna, Kara, and myself, we ran a dozen or so live demos, Kara ran a full session of A Bride for Dracula, we did two Q&A live streams, and of course, three 1-hour Actual Plays with Very Special Guests from the roleplaying industry.
All in all, it had been an awful lot of work to pull all of that off between such a small team of people, but we did it, and we had an awful lot of fun, especially with our special guests on the Actual Play streams.
We welcomed a lot of new fans on the Discord—we hope you stay around and have fun!
Busy bees that we were, we kind of forgot to take pictures during the online convention, so I had to resort to screenshots from the various live streams that we did. Here are a few impressions.
Our guests included game designers Mattias Johnsson Haake (Symbaroum, Free League), Pelle Nilsson (Mörk Borg), Johan Nohr (Mörk Borg), illustrators and artists Anna Katarina Molla (Hypertellurians), Katie Wakelin (Hypertellurians), and Karen Reding (Hypertellurians), and game designer and publisher Zachary Cox (Best Left Buried, SoulMuppet Publishing), and of course game designer and editor Jason Durall (Conan, Chaosium). Our friend, podcaster and game designer Matt Kay (Mud & Blood, Matt Kay Games) sadly had to step back last minute due to technical issues (*shakes fist at technology in general*), but was impersonated brilliantly by our intrepid crew member Tina Reuther, who took cues from Matt on a back channel.
We'd hoped to chill out after a busy weekend like that, but since we'd just opened our own web store to sell Hypertellurians (M)Anvil Edition, we had an awful lot of parcels to prepare and ship, which took us the next two days easily.
Since then, the book is available on several other stores, and we cannot wait until Exalted Funeral receive our box, so our North American fans can get copies without paying a fortune on postage costs.
After all that excitement, we decided on extremely short notice to have a release party, largely focused around chilling out, having a beer, and generally celebrating and having a good, but relaxed, time. This time we remembered to take photos:
The Crew

At this point, I'd also like to extend a huge thank you to the people who've helped with the convention. The Mottokrosh Machinations Crew for Virtually Expo was Anna Molla, David Fuller, Kara Payne, Karen Reding, and Tina Reuther. I couldn't have done it without you.
It's fantastic when people not only play test games with you, connive spells and items, or hand you amazing illustrations, but also stick around afterwards to present it to the world.
Handbook of Heroes does Hypertellurians
I'm a huge fan of the RPG webcomic Handbook of Heroes (and their private boudoir wing, Handbook of Erotic Heroes, available to Patreons), so when I was thinking about promoting the Hypertellurians launch, I immediately thought of approaching them about a collaboration—and "collaboration" is a big word in this case since they did all the work—and they were not only gracious enough to agree, but they delivered in spades. Their scripts (Colin) and art (Laurel) were amazing, and the three comics they produced couldn't be more Hypertellurians. Be sure to check out their huge and hilarious catalogue.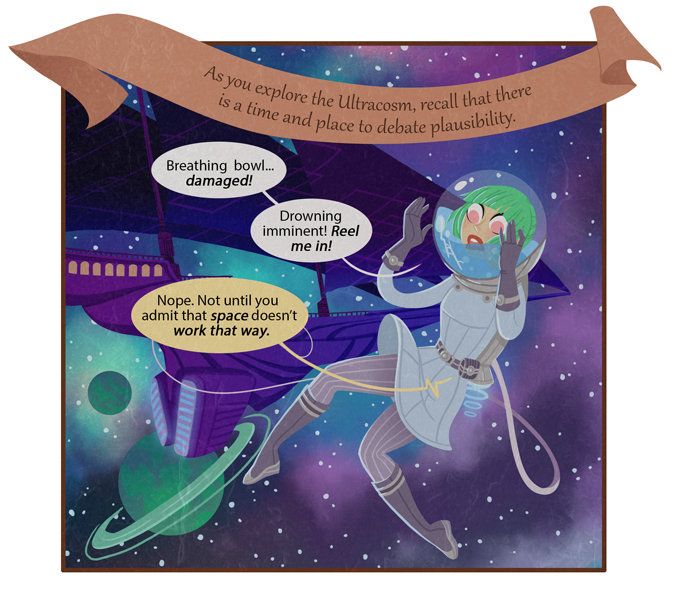 That's right, you're not keeping your air in with the helmets, you're keeping the aether out!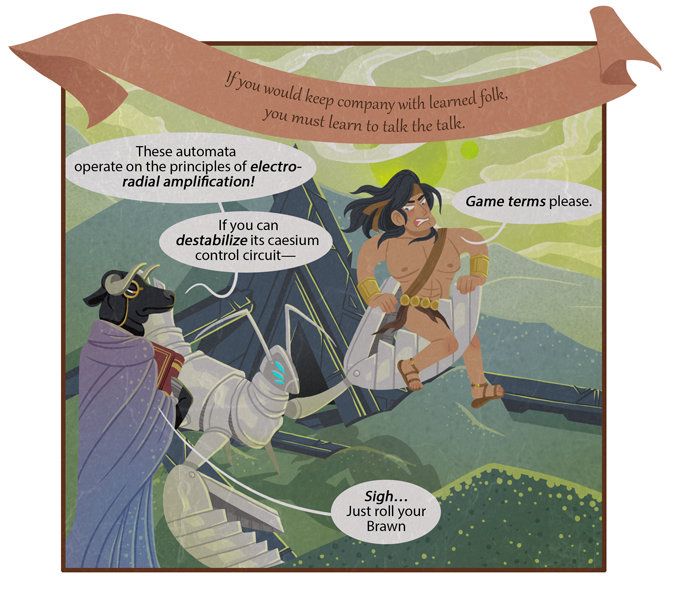 If that's Manvil, then Anvil can't be far away. Probably fighting causality on a dare from Learned Minotaur.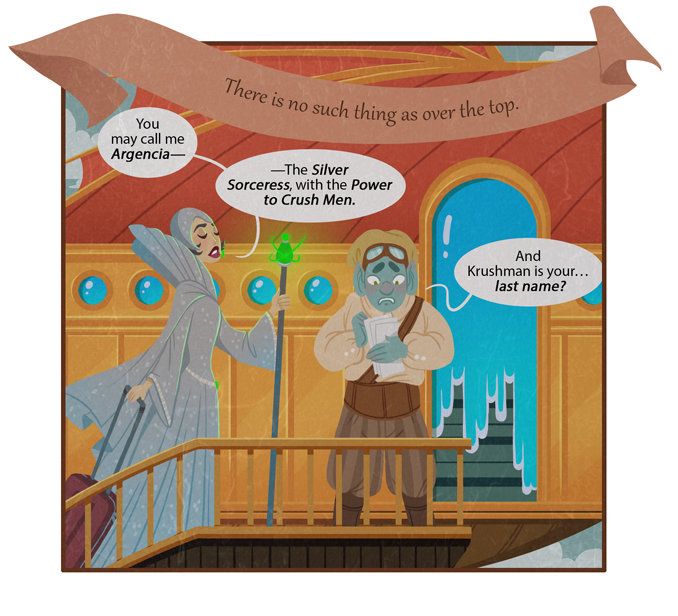 I'll admit it, I gave Argencia the Emergency Exit power, so she would never have to die at the hands of heroes. The world needs B-Movie villains.
Catch up on Virtually Expo
Check out the recordings of our live streams from the convention.
What's Next?
We'll be busy shipping your orders while the going's hot. We've also got some more marketing to do, influencers to contact, press releases to write, that sort of stuff. If you know of someone or somewhere in particular you think would enjoy Hypertellurians, please let us know. We're a tiny team, and producing the game has been taking up all of our concentration, so promotion has unfortunately been missing out somewhat on occasion.
But we're far from resting on our laurels. German and Spanish versions of Hypertellurians are in the works—expect us to make noise about those when their crowdfunding or sales launch—we've got a bunch of unfinished adventures waiting to be polished and made presentable, and oh, yes, I've got a new source-/adventure book percolating in my brain tentatively called Capes, Cloaks, Cowls, and Oh My! —it's going to be seriously niche!
But more than anything, work continues in earnest now on Woaden, a game that takes a slightly different approach than Hypertellurians, but still focuses on fun, accessibility, ease of use, and longevity. More on that in the upcoming months. In the meantime, come and chat with us on Discord!