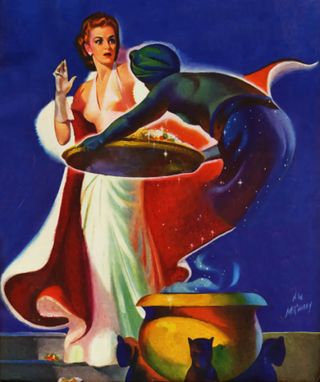 Other than booze and non-denominational professional pleasure workers, of course.
So you've returned from your latest adventure, laden to the brink with treasure, loot, and uncountable masterwork weapons from your fallen enemies. Only, you suddenly realize that your grimdark fantasy campaign setting doesn't have magic item shops! Oh no! If you can't spend your gold on boring but solid attribute-increasing items, or exchange your +1 longsword for a +2 one, what do you do with all that cash? Does it even still hold value?
I had to face that question in one of my games, so I came up with more or less the following table, doctored here to be slightly more generically useful than tied to the setting it was written for. Enjoy 25 ways to gainfully1 invest your treasure.
1No guarantee of gainful investment.
| # | Gold Sink |
| --- | --- |
| 1 | Affect the world. Drain a swamp, construct a bridge, build a road. Make life easier and better for your homebase. |
| 2 | Upkeep. Live your non-adventuring life in style. Maybe your GM will speed up your recovery if you hang out in luxurious and clean surroundings. |
| 3 | Proficiencies. Learn a new tool, skill, or language. Be good at more stuff. |
| 4 | Consumables. Get your curing tonics from the local herbalists' guild, and stock up on some of that blessed water. Try all the temples and shrines---their gods might have different interpretations of "blessed." |
| 5 | Improve equipment. Sharpen, strengthen, or add functionality to your war stuff. |
| 6 | Poisons. Get your poisons from the local herbalist's guild. Wait, weren't we just there for tonics? |
| 7 | Morale. Live a comfy lifestyle, and argue that it should give you a bonus of some sort on your next outing. |
| 8 | Information. Pay for remote or local research, news, rumours. Knowing is half the battle. |
| 9 | Bribes. Get special favours in your favorite watering hole. Get your hands on the blessed water before anyone else. Get some alone time with the evil, spellwise villain you've imprisoned. |
| 10 | Construction. Improve your personal quarters, or help the town. How about a defensive wall, or even a moat? |
| 11 | Vehicles. Purchase or build vehicles. Nothing says powerful wizard like a floating palanquin, or international orc of mystery like a rhino-mounted howdah. |
| 12 | Startup. Start a new business. Just be careful about competition. Especially in the plants industry. |
| 13 | Clearing. Clear and maintain explored areas for easier travel. Get to the adventure faster! Tame that nature! |
| 14 | Taxes. Pay taxes, or tithes, or the local protection racket, if you know what's good for you. |
| 15 | Protection. Ensure the safety of yourself, your business, or your town. Or hire some thugs and sell "protection." Two sides to every coin! |
| 16 | Followers. You're hiring. Someone's gotta clean that camp, polish your arrows, and string your lutes. |
| 17 | Livestock. Maybe your goose will lay golden eggs. |
| 18 | Pets. Not just for seasonal holidays. If they're furry they can keep you warm on those cold nights, or be an emergency meal that carries itself. Plus, they probably have a better perception bonus than you do. |
| 19 | Presents. Buy something for your mum, or your party cleric, or the opera singer that can get you the nice seats. Or switch the stick for the carrot with your goblin labourers. Stay sweet with their union. |
| 20 | Special services. Purchase services from the Highwater Theorem Academy, or else the local temple of whatever god or goddess of sex your GM crammed into the setting. |
| 21 | Experimentation. Attempt to create new eldritch formulae for rituals or pancakes. |
| 22 | Training. Get the premium levelling experience with bonuses by training with masters of their arts. |
| 23 | Focused training. Attempt to improve your weaknesses. It's worth a shot. Evade the one-dimensional character stereotype by increasing your dump stat. |
| 24 | Self-publish. Become a famous rockstar by finally getting your memoirs and/or lyrical masterpieces out to the masses. What do you mean they're mostly illiterate? |
| 25 | Party. Or party like it's [insert relevant date and date format for your setting here]! |
Image credit:
Public domain art from [Wikimedia Commons](https://commons.wikimedia.org/wiki/Main_Page), lovingly restored and remastered by myself.